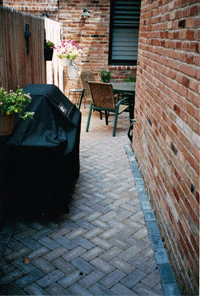 When you have been exclusively installing pavers and block walls for as long as we have, we have seen nearly every situation. A large part of what we do of course, involves preparing the base and installing the pavers or blocks; but just as important is the know-how that we bring to every job. The soil in Oklahoma can be difficult to work with and the extreme rains, ice, snow and drought that we deal with annually make it critical that a good installer understand how all of this will affect the pavers and walls. The good news is, we do.
Pavers: Interlocking segmented modular concrete products. A concept that has been around since the Middle Ages and increasingly an alternative to traditional poured-in-place concrete products.
We know you want a full range of choices to complement your personal style and that whatever your choice, you want it to add value to your home. Whether you are designing a new patio or deck, need to replace your cracked poured concrete driveway, or you need to replace your rotting railroad tie timber walls, pavers and segmental retaining walls offer the perfect solutions. Put Tulsa Paver Designs' broad experience in a wide range of projects to work for you. Call us for your next project, including pool decks, high end retaining walls, seat walls, driveways, pathways, patios, and decks.
Paver Ready News!
Get Social! Fan us! Tweet with us!
Simply click on the links below and join Tulsa Paver Designs on our Social Networking Sites. This is a great way to stay current on our news, events, and much more. Be sure to join our Fan Page on Facebook by clicking the "Like" link.
Come visit us!
On March 8-11, we will be at the QuikTrip Center for 2012 Tulsa Home & Garden Show. Look for us!
Choose Tulsa Paver Designs!
Over 20 Years Experience
Locally Owned & Run
Family Owned
Work is guaranteed
Free Estimates
Our work is beautiful!